Air Scrubber by Aerus
The AirScrubber by Aerus® attaches directly to the HVAC system ductwork to reduce viruses, bacteria, and other contaminants in the ambient air and on surfaces while the HVAC fan is running.
Patented ActivePure is an advanced surface and air purification technology. It has been proven to reduce up to 99.9% of many common airborne and surface contaminants.
Features:
Uses the latest version of ActivePure Technology
Provides 24/7 surface decontamination and air purification
Reduces allergens and other contaminants
Installs directly into existing ductwork
Protects your heating and cooling system from potential buildup
Honeywell F100 Media Air Cleaner
Since Honeywell introduced its first Electronic Air Cleaner over 50 years ago, our history of performance and reliability has made us a top consumer brand. Our complete portfolio of product solutions includes Whole-House Air Cleaners, High-Efficiency Electronic Air Cleaners, Media Air Cleaners, Return Grille Media Air Cleaners and Replacement Filters.
Features:
MERV 11 -Up to 14 times more effective than a standard one-inch filter, capturing up to 96% of airborne particles*
Lasts up to four times longer than a standard one-inch furnace filter. Replace every 6-12 months versus monthly or quarterly changes
5-Year warranty
Six space-saving sizes to fit any application
Low Pressure Drop 0.23" w.c.
*ASHRAE 52.2-2007 tests conducted at LMS Technologies determined that the F100 filter captured 96% of E3 particles (3.0 to 10.0 microns) passing through the system.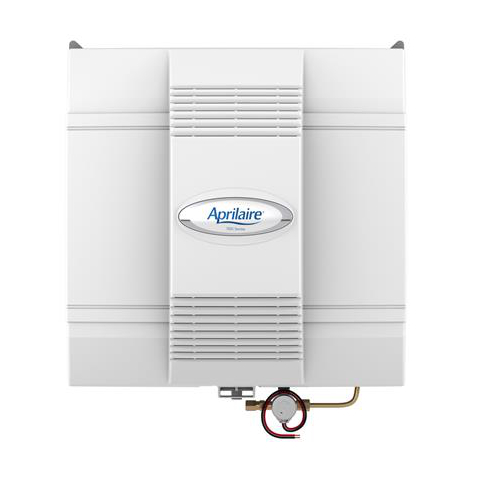 Aprilaire 700 Humidifier
HUMIDIFIERS - Healthy Humidity reduces the incidence and risk of respiratory infections from airborne viruses. It also helps remedy your dry skin, chronic sore throat, frequent nosebleeds, and static shock. Additionally, proper humidity levels protect your home's wood furnishings from cracking or splitting while lowering your energy bill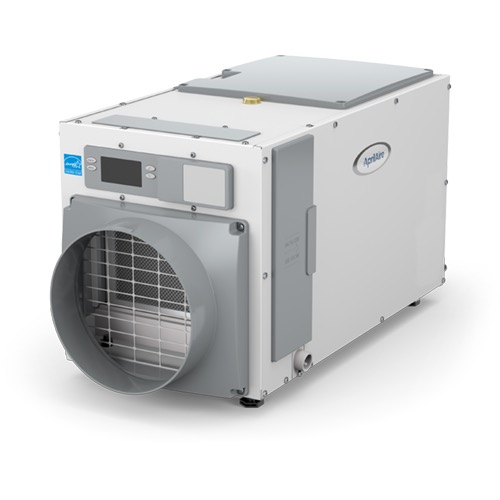 Aprilaire E100 Dehumidifier
DEHUMIDIFIERS - Excess moisture in your home creates perfect conditions for mold growth, allergens, musty odors, and mildew which can lead to unhealthy air. AprilAire dehumidifiers remove the right amount of moisture from every room in your home, until your optimal humidity level has been reached. Our whole-house dehumidifiers can also help make your home more comfortable and energy-efficient while protecting your home's assets. The AprilAire dehumidifier includes a dedicated drain which means there is no messy water tray to empty. Yearly filter cleaning or replacement makes maintenance simple.
Aprilaire Model 8145
AIR VENTILATORS - AprilAire's ventilation systems help create healthy air in the home. By bringing in fresh air from the outside, we can dilute trapped airborne contaminants like allergens, chemicals, viruses and bacteria, and radon. Contaminants that can make you and your family ill. Ventilation systems also help push out trapped humid air outside to help improve indoor comfort and health. Beyond comfort and health, our ventilation systems are also energy-efficient. Each ventilation system has temperature and humidity sensors to determine the best time to bring in fresh air from the outside reducing energy usage. In addition, the 8145 was recently awarded Most Efficient 2020 by ENERGY STAR® recognizing the product's innovation and energy-efficiency
---
Miller's Area Heating proudly provides HVAC service to Grayslake, Libertyville, Round Lake, Wildwood, Ingleside, and the surrounding Illinois communities. Visit our service area page for more coverage details, call us at 847-223-0211, or request service online today.